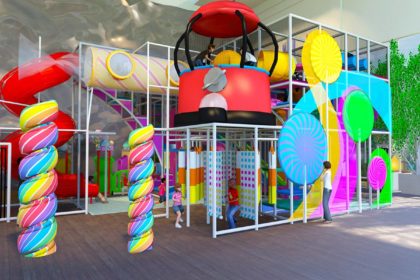 Why are we called Amusement Concepts Play-Experts?
Since 1994 we have been designing, installing and then servicing Canada's best indoor playgrounds. With 1,000's of hours experience, we've become true experts at helping you keep that new playpark in top shape, and we'd like to share our thoughts on operations, maintenance, inspecting and cleaning!
Operation Guidelines
Operating and offering a safe play environment for your customers takes dedication and a commitment to safety. There are several critical factors to employ in the operation of your play system:
• A well-maintained and clean play system;
• A well-trained staff that is knowledgeable about contained playground safety guidelines, rules and regular maintenance;
• A supervised play environment;
• Appropriate Safety Surfacing;
• A daily, weekly and monthly cleaning & inspection program that is strictly adhered to
• A commitment to take immediate corrective action when needed
• Proper display of signage.
Play System Rules
At minimum we recommend posting the following…
• Children must be supervised by a parent or adult at all times in the play area.
• Play equipment is designed for children ages 3-12. Adults should use caution when using the play equipment.
• Do not place children on laps when sliding.
• Please remove shoes, loose articles of clothing and jewelry. Place shoes in Sneaker Keeper® before using the play equipment.
• Socks must be worn at all times.
• Slide one at a time in a forward seated position, feet first.
• Please no climbing on or up the slides.
• Please no climbing or standing on the outside of the play equipment.
• Please no running.
• Please no food, gum or drinks in the play equipment.
• Please do not bring toys or other items into the play equipment.
• Please do not play if the play equipment is wet.
• Notify management of any problems or concerns
Staff Training and Responsibilities
It is critical that your staff is properly trained on the appropriate rules, guidelines, cleaning and maintenance requirements, and operational procedures of your Play Equipment, and the play area in which it is located. It is important that every staff member understands and enforces the play area rules. It is just as important that your staff is trained to spot and immediately correct any situation that could compromise the proper function of your Play System. Staff should be proactive when it comes to finding and correcting maintenance issues before they become problems, and they should be able to identify and order replacement parts. Finally, employees should document inspection and maintenance actions.
PLAYGROUND MISUSE
Perhaps the most significant threat to the function of your Play System, and to the safety of its users, is misuse. Contained Play equipment is intended for use in a monitored play environment, where children are supervised by a responsible adult.
Corrective Action
Corrective Action should be taken when, among other things, you encounter:
• Children playing in the system without socks on their feet.
• Foreign materials and inappropriate objects (including food or drink) in the Play System or use zone
• Children climbing on the outside of the Play System equipment structure, or children
that may have gained access to the inaccessible areas.
• Children playing or lingering in front of slide exits.
• Children re-entering or climbing up slides.
• Children in the Play System wearing helmets, loose necklaces, or clothing with
drawstrings, loose cords, or hoods, or any other items that may cause entanglement or
head entrapment.
• Use of the Playground Equipment by over- or under-aged (or sized) persons.
• Children playing in the system without adult supervision.
• Components removed from originally installed positions.
• System occupancy exceeding the recommended safe capacity for your Play System or
building.
• Loose or missing bolts.
• Torn or frayed netting or webbing.
• Torn floor surfacing or mats.
• Exposed threads.
• Loose or broken parts
• Pinch Points.
• Sharp or rough edges
• Chipped, cracked, cut or missing parts
• Dirt or other inappropriate objects in or around the Play System.
• Misuse of the Play System.
If any such problems are encountered, the Play System should be closed or the problem area cordoned off until all necessary repairs, replacements and appropriate remedial measures are completed.
Daily Inspections and Daily Cleaning Overview
Below is a Daily Inspection and Daily Cleaning Checklist…– feel free to copy any of our checklists for use in your facility…
1. Remove any inappropriate objects or food in, around, or near the Play System Equipment that may obstruct clearances. For instance, remove cleaning tools left on the floor near access areas. Be sure to check inside the unit also.
2. Make sure there are no loose or missing hardware including, but not limited to, nuts, bolts, rivets or protective cap nuts. Pay special attention to components that are subject to vibration or movement such as a slide.
3. Make sure there are no signs of damage or vandalism.
4. Make sure there are no broken or missing windows
5. Make sure that all netting is secure and intact with no holes.
6. Make sure there are no missing pieces of post padding and/or plastic ties. Also make sure there are no exposed ends or sharps edges on the ties.
7. Make sure all zippered entries, auxiliary access and gates are closed, locked and function properly.
8. Make sure that inaccessible areas are locked and properly secured — with entry available to site personnel only — and that any keys are readily available to site personnel.
9. Return misplaced balls to the ball pool.
10. Make sure the Play System equipment is clean. Pay special attention to balls, handrails, stair treads, entrances, windows and other areas that are frequently touched.
11. Make sure any mesh fabrics, webbing or vinyls are secure and free from tears. Be sure to check the ball pool liner, especially when the balls are removed.
12. Make sure steps inside tubes are secure and intact with no tears.
13. Make sure that any electronic components are operational with no signs of loose wires or other damage. In addition, ensure that no wiring is accessible to Play System users.
14. Make sure that any floor or component pads are intact, secured and properly located.
15. Make sure that tube entry ring pads are intact and secure.
16. Make sure there are no pinch points, sharp or rough edges or entanglements on or in the accessible areas of the Play System Equipment.
Inspecting & Cleaning
Weekly Cleaning and Inspections
In addition to the daily inspection and cleaning of your Play System Equipment, we recommend that at least once a week, you thoroughly clean and inspect the entire play unit.This includes all major components and moving components, windows and domes, junction box pads and other pads, vinyl items and plastic elements.
Below is a Weekly Cleaning and Inspection Checklist…
1. Check all hardware to make sure bolts are tightened, end caps are in place, and all hardware is securely in place. Make sure there is no missing hardware. If missing hardware is found, replace immediately.
2. Make sure the support structure is secure with no missing hardware. Be sure to check floor anchoring hardware. If necessary, lift covers to inspect.
3. Make sure there are no cracks in plastic elements, windows and domes. Any cracked items
should be reported and replaced immediately.
4. Inspect vinyl pieces to make sure there are no rips, holes or tears. Monitor signs of wear and
replace if necessary.
5. Make sure that web stitching shows no sign of failure.
6. Check safety surfacing for potential trip hazards.
7. Check to ensure that the ball pool (if installed) is properly filled with balls. Maintaining proper ball level will decrease wear on the ball pool liner. Ball level should be to the point where the mesh and vinyl of the liner meet.
Cleaning Guidelines
Do's
Soap & Water – Mild antibacterial dishwashing soap and warm water are recommended for daily and weekly cleaning. Use approximately 2 tablespoons to one gallon of water.
Soft Cloths – Clean, absorbent soft cotton cloths such as cloth diapers are best to use on domes, windows and plastics.
Soft Bristle Brush – Use clean, soft bristle brushes for cleaning ropes and web crawls, and removing dust and debris from plastics.
Disinfectant Spray – A mild, non-toxic disinfectant spray is recommended for disinfecting plastics.
Hand-held Vacuum Cleaner with crevice-reaching attachment – Use a hand-held vacuum, as it will serve as a valuable cleaning tool especially for those hard-to-reach areas.
WD40 – Use WD40 to remove scuffmarks on plastic only. Wash and rinse the surface immediately after using WD40 to remove any WD40 residue.
Don'ts
Paper Towels – NEVER use paper towels on domes or windows. It will scratch and dull the windows.
WD40 – NEVER use WD40 on domes or windows.
Degreaser – NEVER use DEGREASER on any plastics, domes or windows.
Harsh Chemicals – NEVER use harsh chemicals such as bleach, chlorine, fingernail polish remover, or other chemicals that may degrade or dull the plastics.