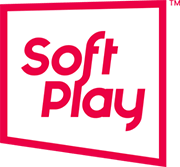 WORLD'S LEADING BRAND OF INDOOR & OUTDOOR CONTAINED PLAY STRUCTURES
Why Soft Play?
It was 1984 when four innovators in a garage started Soft Play. These guys developed a safe alternative to traditional style playground equipment, quickly outgrowing the garage and earning the trust of some of America's biggest brands. And yes, they did start the industry.

Our People
Designers, engineers, play experts. All focused on building the world's highest quality, safest and most fun commercial playground equipment. Better solutions from better brains.

Quality & Safety
Soft Play's approach to quality and safety begins long before the manufacturing process starts. Being focused solely on contained play allows Soft Play to get it right from a quality and safety perspective.

So you get a special mix of the right products, field representation, customer service to join you every step of the way.

Just call us with your wish list and we will get to work for you!